Apartment house in Kreuzlingen
Own power optimization: Own use of the generated PV power and increasing independence from the energy supplier

Security of supply in the event of a power failure

Saving of electricity costs

The system produces the general electricity requirement including heat pump heating
Characteristics
PV-Generator
24 kWp
Inverter
2 x 11 kVA (CENTURIO 10)

Battery
20,5 kWh (5 x DOMUS 4.1)
Installation
January 2017

Consumption curve WP in the apartment building


Zero energy office building
Goal:
Create independence from the public power grid (reliability)

The building is energetically optimized, the power supply is to be completely taken over by CENTURIO inverters

Characteristics
PV-Generator
24 kWp
Inverter
2 x 11 kVA (CENTURIO 10)

Battery
64 kWh (16 x DOMUS 4.1)
Installation
June 2016

CENTURIO as Battery inverter
Installation in Winterthur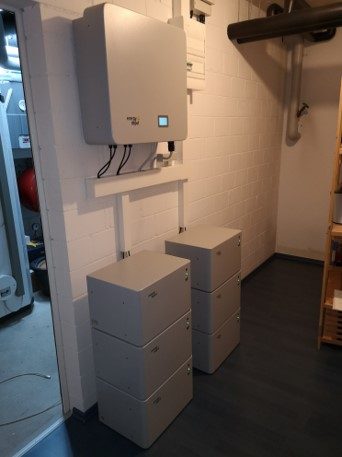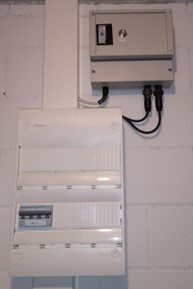 To operate the CENTURIO without PV, you need a DC source to start the CENTURIO.
See the box in the top left.
The system is operated on the PV side with a Solaredge inverter with optimizer. The CENTURIO is installed as a pure battery inverter.
Characteristics
PV-Generator
10 kWp
Inverter
1 x 11 kVA (CENTURIO 10)

Battery
24 kWh (6 x DOMUS 4.1)

Installation
July 2019

Installation in Zimmer in Rottweil

Self-consumption optimization

7.5 kWh are sufficient for night operation

Energy meter
Dimension: 170x280x92mm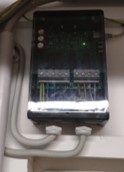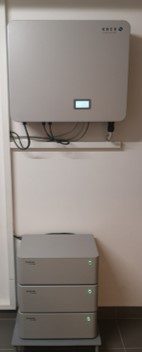 10kW hybrid inverter
Dimensions (WxHxD): 610x552x200mm
7,5 kWh DOMUS 2.5
LiFePO4 batteries
One battery, dimensions: 440x180x328 mm
3 Batteries: 440x570x328 mm
Characteristics
PV-Generator
7,5 kWp
Inverter
1 x 11 kVA (CENTURIO 10)

Battery
7,5 kWh (3 x DOMUS 2.5)

Installation
April 2020
Container energy storage solution