We help you to achieve maximum independence from external power sources.
Grid parallel and island operation including automatic switchover
Outstanding partial load behavior for maximum range
Modular scalable for needs-based dimensioning
Barrier-free evaluation with the SEMS software
Smart control and measurement of energy consumption with current sensors
Full Shield Technology for maximum security of your energy storage
Maximum efficiency in individual components and the overall system
3-phase supply provides energy for the whole house
On-Grid & Off-Grid
flexible and secure
Power substitute and stand-alone operation
Automatic island switchover in the event of a power failure, UPS-compatible <20ms
Real sine output voltage even with emergency power supply
10 kW hybrid inverter
3-phase integration
2 MPP trackers for different module orientations
Load compensation (<8s)
Highest efficiency of> 98.1%
Integrated battery management system (BMS)
Stable aluminum housing
Fanless
Features and advantages:
Maximum safety performance with LFP technologies
Build-in aluminum heat sink, optional heating solutions
Compact design with flexible size options
IP 65 protection for indoor and outdoor use
Compatible with leading inverter brands
Black start function available, quick installation
Scalable in capacities of 7.1, 10.65, 14.2 und 17,76 kWh
6.000 cycles at 80% DoD
10 years performance garanty
Compact and easy to install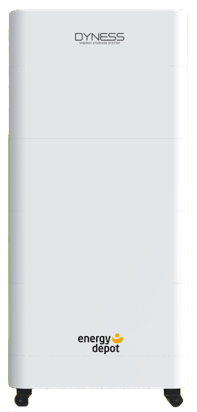 Smart regulation for maximum performance
Accurate 3-phase power measurement
Real-time measurement
Bus connection to the inverter via RS 485 interface
Data acquisition of energy consumption, current, voltage, power, active power, frequency
Up to 120A current measurement (approx. 48 kW)
Self-consumption max. 3W
IP 20, top hat rail mounting
Connections for external current sensors
Easy installation
The monitoring is connected via a WiFi interface. Simple connection to the router. Settings for the network conditions are made via an APP.
Selection of 4 different operating modes via APP.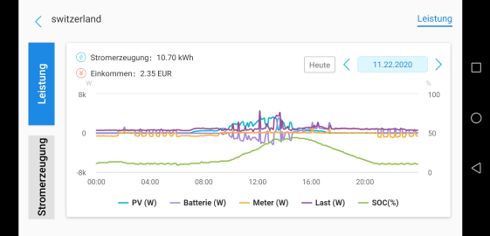 Operating mode

There are three basic modes that the end user can select from the PV Master app.
General mode: During the day, the electricity generated by the PV system is used in the following order:
Supply own consumers, then charge the battery and finally feed the excess electricity into the grid. At night the battery supplies the consumers with electricity. If the power supply from the batteries is insufficient, the system automatically connects to the grid to supply the consumers.
Backup mode: In this mode, the battery is only used as a backup power supply if the utility grid fails. As long as the mains is working, the batteries are not used to power the loads. The battery is charged with the electricity generated by the PV system or the grid.
Economy mode: The customer can set the charging and discharging times of the battery in accordance with the peak and off-peak tariffs and the household's electricity consumption habits